Hello, and welcome to the 21st century (that's aimed at me, not at you.) Yes, I realize I am the last person on the face of the planet to start a blog. But I am a (shhhh) secret technophobe. That's right – somehow I manage to master the intricacies of a $5,000 camera and Photoshop, but I cannot for the life of me figure out how to use my cell phone. No worries, though – my 8-year-old daughter freelances in technical support. :-)
2010 was an absolutely amazing year full of gorgeous brides and the most fabulous weddings, and I decided I finally needed to dive into blogland so I could share it with you all!
You may already know that my philosophy in photography is "get real" – as in: don't get posed, get real. I am so honored to be able to capture many genuine, intimate, emotional, sometimes sad, sometimes hilarious moments at every wedding – they're what makes each day totally unique. I love it when couples see their photos for the first time and they say, "How did you get that?!" or "Oh my gosh, I remember that exact moment!" This is what I love about what I do – getting to give these gifts to you to enjoy for the rest of your life. Mmmmm, yummy!
So, what better way to kick off my blog than with my Top 10 "get real" moments of 2010? (Except, of course, for my Top 14 "get real" moments, because I'm an artist, not an accountant! :-)
Here we go… feel free to leave a comment at the end, letting me know which "get real" moment is your favorite!
1. All dressed up
There's this moment, as you slip on your dress the morning of your wedding, when it hits you – oh my gosh, this is IT!! I've never seen it play out on a bride's face as clearly as it did with Abby. She chose the cutest ever Audrey Hepburn-style dress from Stephanie James – she'd dreamed of looking like Audrey on her wedding day ever since she watched "Funny Face" when she was a little girl.
Her mom and sister were buttoning her up, and suddenly her emotions swelled up, and she started fanning herself and trying not to cry as her best girlfriends clapped and laughed with her. It was a completely joy-filled moment she will never forget – and neither will I!
_________________________________________________________________
2. For the very first time
It was super hot out, so we were upstairs in the sitting room of the lovely Minikahda Club, the sunlight streaming in, and Kate was waiting for Peter to come meet her. This is a pretty amazing couple – just back from Santiago, Chile where Kate was working with a Harvard economic development research group, and Peter was applying to medical school. Kate's kind of a no-nonsense, get it done type of woman. So I think it surprised them both when Peter walked in and both of their eyes filled with tears. She'd already told me he might cry, but I think the power of the moment overwhelmed her, and she joined him. It was an incredibly intimate moment, and I am so glad I was able to unobtrusively capture it for them without interrupting it.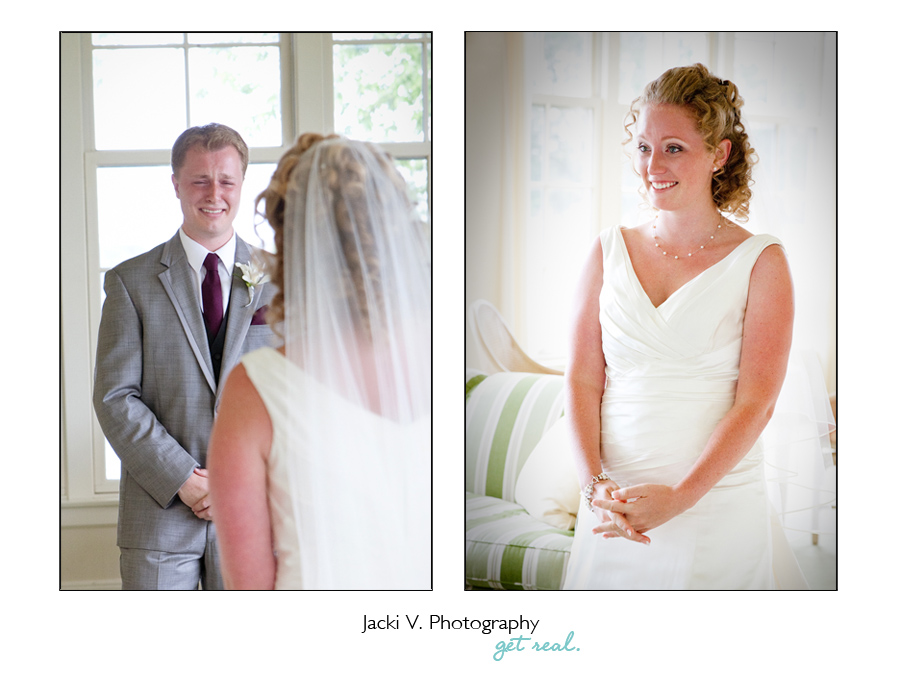 _________________________________________________________________
3. A kiss to build a dream on
It's amazing, after you spend months and months planning every detail of your wedding, how fast the day itself flies by! That's why I love giving couples some time away from everyone, where they can soak it all in. With Kim and Tyler, we were on our way to the church for the ceremony, when we found a secluded alleyway in St. Paul and ducked in. Here they shared a last moment as fiance and fiancee, before the wonderful chaos of the day hit. Mmmmm… can't you feel the love?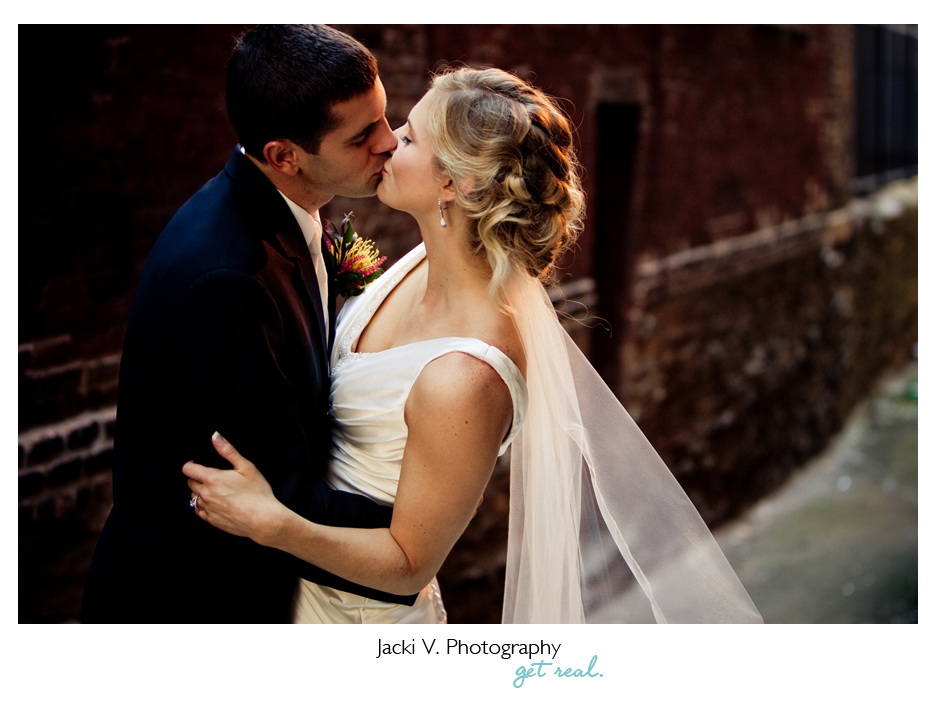 _________________________________________________________________
4. Shannon and Steve's ceremony in the round
Okay, I promise this one's not making the favorites list JUST because it took me to California when the Minnesota winter was starting to hit, OR because the cutie patootie pastor performing the ceremony was my hubby. (And why are there so many pictures of the officiant?? :-)
Shannon and Steve are big believers in community, which is also something very close to my heart. After 50+ years of living as a single woman, Shannon's community of friends had become her support system and her family. I absolutely loved how she and Steve incorporated their tight-knit community into their day, by literally having everyone surround them during the ceremony. It was one of the most joy-filled, interactive weddings I've ever had the pleasure of photographing (and btw, did I mention that the pastor was quite handsome? ;-)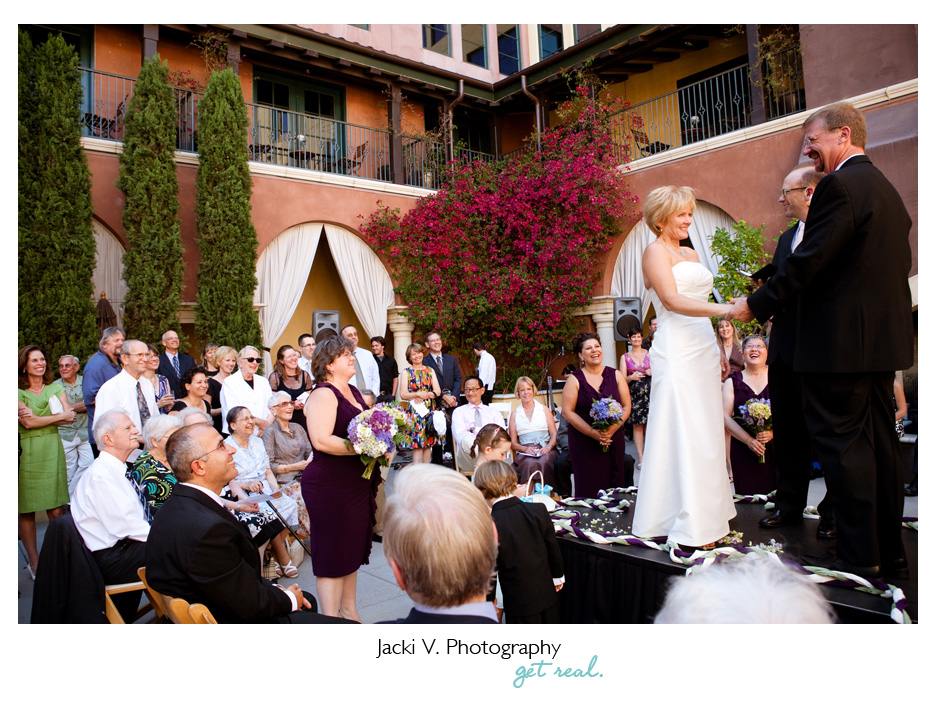 _________________________________________________________________
5. Being given away from one best friend to another
The Graves 601 Hotel was the site of Marissa and Robb's December wedding, and Richfield Flowers created an enchanted winter wonderland, just like Marissa had dreamed of. But even more breathtaking than the twinkly, sparkly decor was the emotion between Marissa and Cheryle, her mom and best friend, as she walked her down the aisle to Robb. I lost my mom in my 20s, before I met my husband, just like Marissa lost her dad before she met Robb, so her sweet relationship with her mom and this moment between them touched me deeply.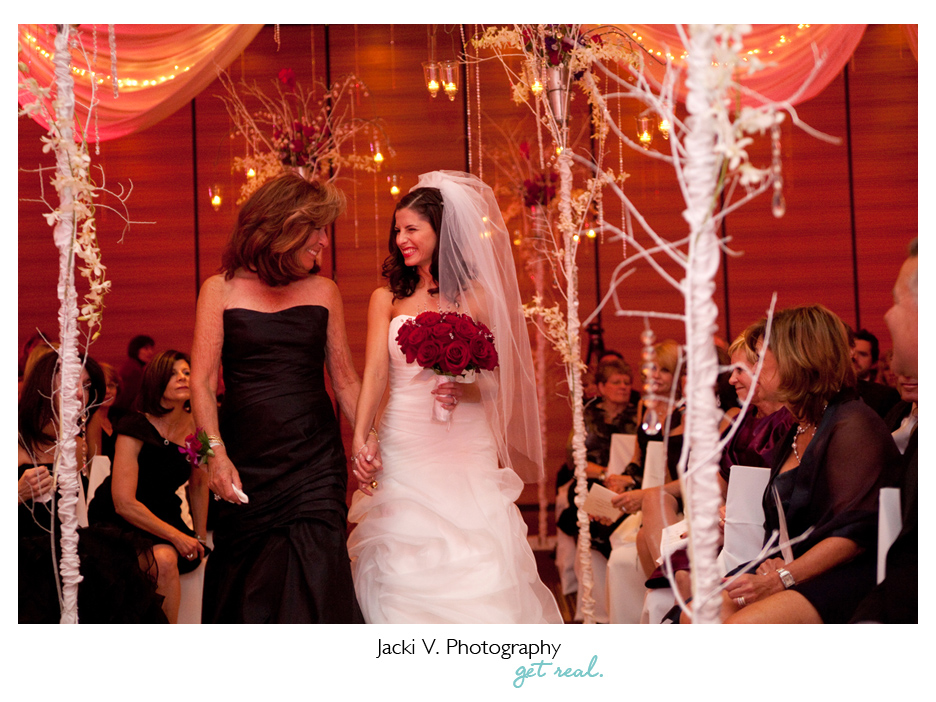 _________________________________________________________________
6. At last…
Sarah and Nixon did not rush into the marriage thing. In fact, they dated for 9 years and have been raising a family together. So you might think that theirs would be less "romantic" than a newer relationship. But the comfort and safety they feel with each other is a testament to the depth of their love affair. You can tell that they are fully known by each other, and that is a rare and amazing thing to find. I love their complete joy in this moment after the ceremony.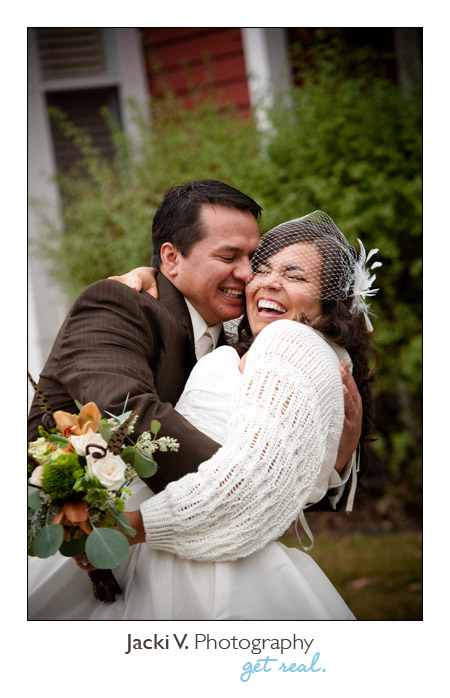 _________________________________________________________________
7. The last days of fall
Sue really wanted a fall wedding, but most of the leaves had fallen off the trees already in the spot where we took photos before the ceremony. So afterwards, on our way to the reception, we stopped off at a tiny park tucked alongside Minnehaha Creek. The sun was going down and we only had a few minutes of light left, but we didn't need long to catch this perfect moment. How sweet it is to be loved like this…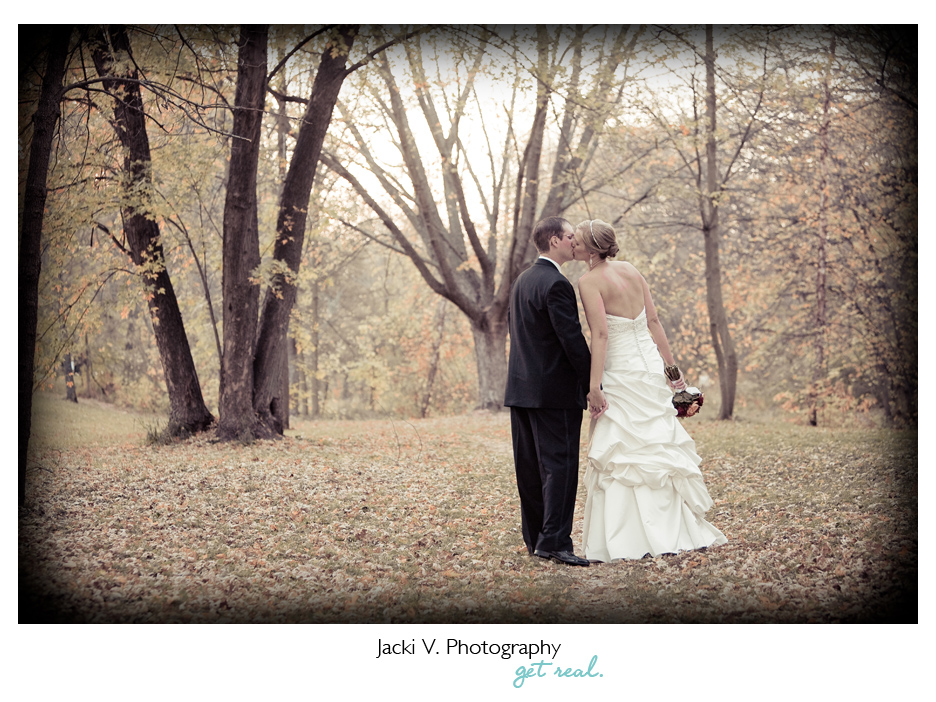 _________________________________________________________________
8. So happy together
I've had the pleasure of doing several weddings at Adath Jeshurun in Minnetonka, and every time I do, I fall more in love with the community there. Ben and Tamar have an amazing group of friends and family. I love how Tamar often puts her hand on a friend's face as she speaks with them – such a tender gesture of deep affection. In addition to being so affectionate with each other, Ben and Tamar's friends are also incredibly joy-filled and hilarious. And they weren't holding anything back that day, as you can see. They made sure Ben and Tamar's life together started with lots of laughter stored up in their hearts.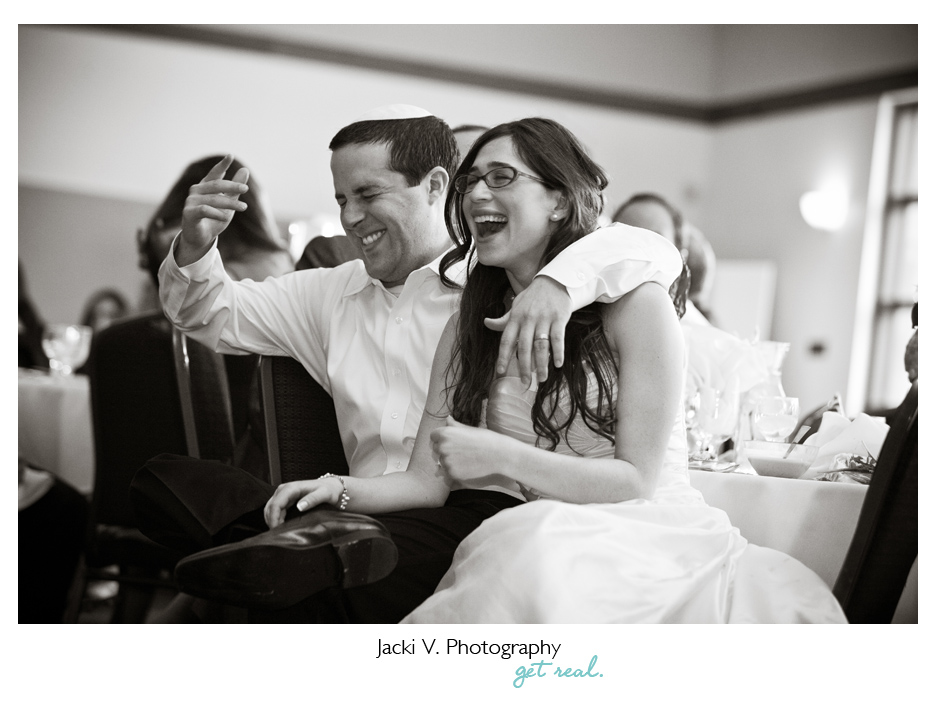 _________________________________________________________________
9. Swept off her feet
Lucky me, another wedding at Adath! This time the bride was beautiful Talia, and she was the image of elegance. That's why it was especially funny when her friends lifted her up on the chair for the hora (which is one of my favorite traditions ever, by the way!) The look on her face makes me laugh out loud with her! What a priceless moment to get to hold onto forever!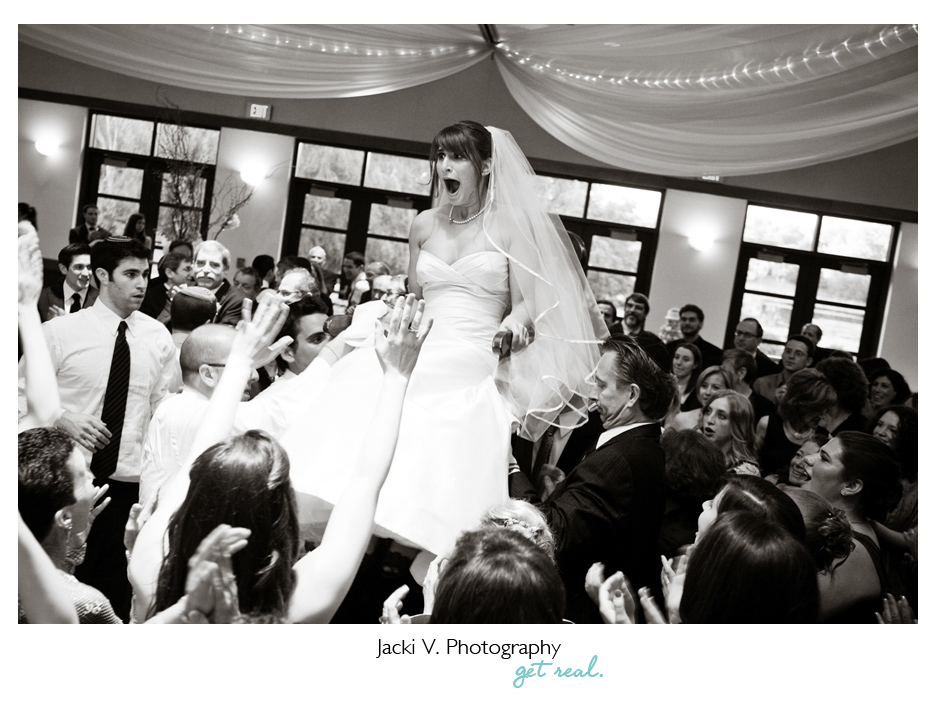 _________________________________________________________________
10. Let them eat smush cake
Speaking of laughing, can I just veer off the track for a minute here, because that reminds me of another moment that makes me laugh out loud. (Okay, so technically Kady and Josh's wedding at Rush Creek – one of my favorite places to photograph – was in late 2009, but that's the beauty of being a one-woman judging panel. I'm giving myself a little leeway because this one's just too ooey-gooey good not to share.) So, they go to cut their cake, and at first everyone was playing nice. But then… I don't know who started it, but they both got in a great shot, as cake flew absolutely everywhere! Note to self: next time, bring a rain poncho!

_________________________________________________________________
11. They said it couldn't be done…
When Natalie and Bobby and I first met to talk about their wedding, they told me that their grandparents never smile, and that I would not be able to get any pictures of them smiling. Well, that's just the kind of challenge I love! In addition to getting them to relax and smile during our "formal" family photos (which I try to keep far from "formal" feeling!) I also caught this adorable moment on the dance floor. Tell me you can't see the 16-year-olds they once were.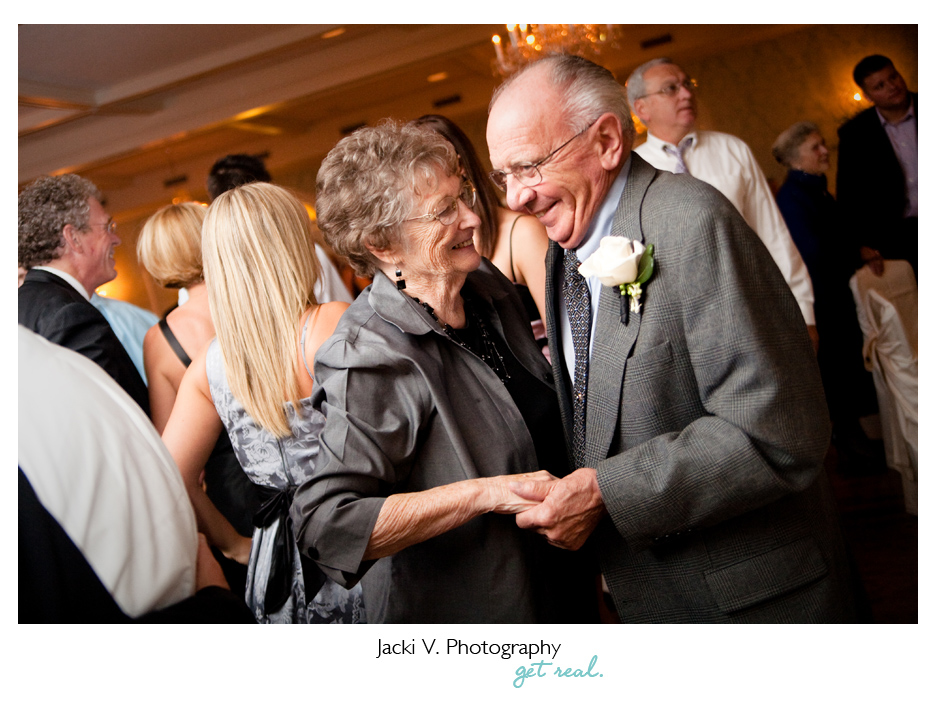 _________________________________________________________________
12. This kiss, this kiss…
Lindsey and Bill wanted to do an engagement session before he shipped out to Iraq. I designed a coffee table book for Lindsey – something for her to hold onto during some of the hard days to come this year. This moment was completely spontaneous, and it reminds me of the famous photo of the sailor kissing a nurse in Times Square on V-J Day.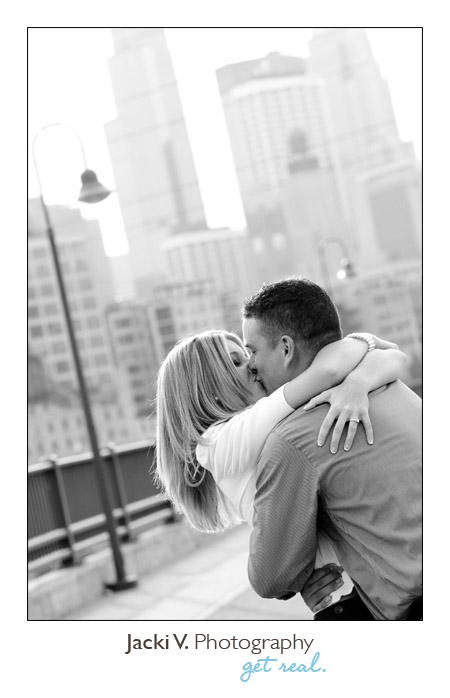 The future's so bright…
Okay, I  just have to show you one more image from Lindsey and Bill's session. Look at that beautiful light shining on them – I think it bodes well for their future.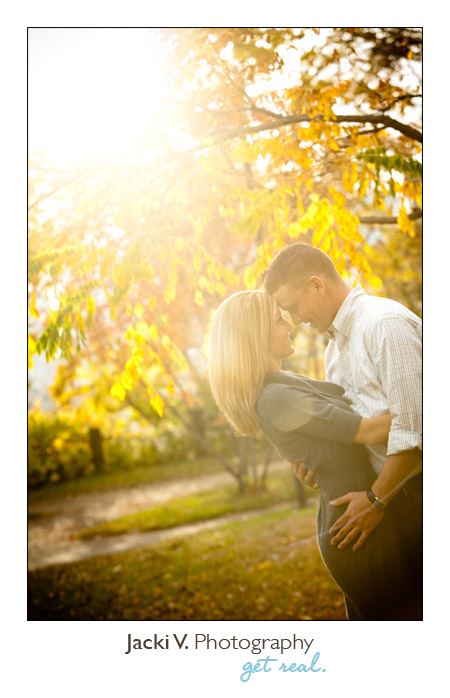 _________________________________________________________________
13. The great Minnesota get-together
Well, now that I've veered off the wedding path to engagement sessions, there's one more I just have to share. Alicia and John are such a playful couple, and what better place to play than at the State Fair? We had so much fun visiting all their favorite food stands – who wouldn't want an engagement photo taken while sharing a giant brat from mit Kraut?!  I especially love this image of them lost in the moment while the rest of the world (or at least most of Minnesota) rushes by – isn't that just what love should feel like?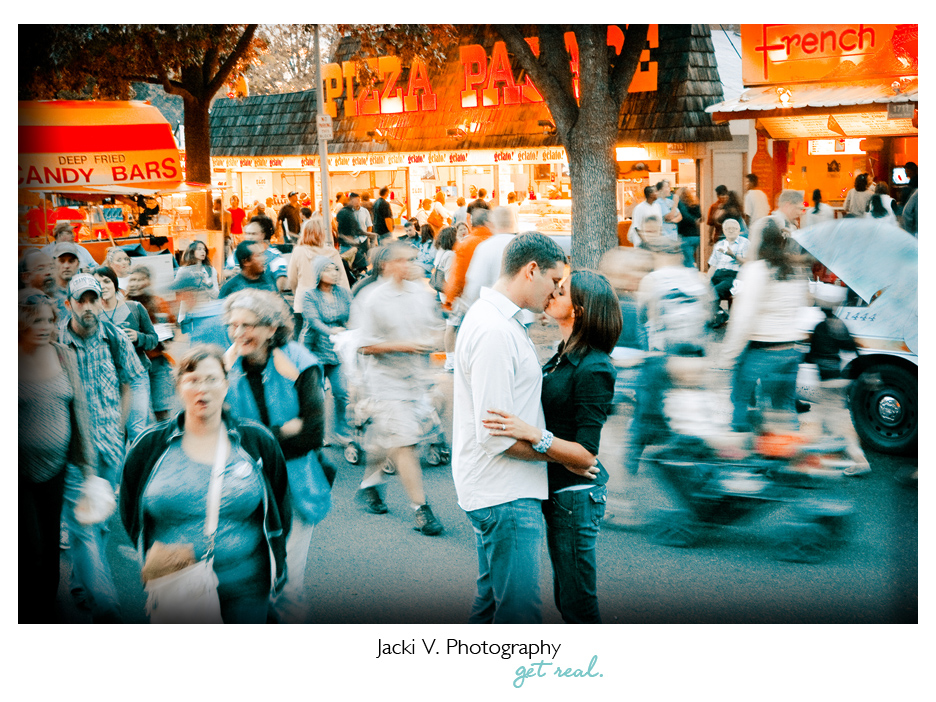 _________________________________________________________________
14. Serendipity!
I couldn't talk about that day at the fair without sharing the story of Jen and Andy. I was at the bottom of the Giant Slide, waiting for Alicia and John to come down, when I heard a woman say to her husband, "Take a picture of this couple coming down – they just got engaged!" So I zoomed in and took a couple shots also. I assumed she meant that they had gotten engaged earlier that evening, and it wasn't till later when Jen called me that I found out that they had literally JUST gotten engaged seconds before I took this photo. I LOVE the look of complete exhilaration on Andy's face – "She said yes!" – and Jen, with her hand in a fist, trying to keep her brand new ring from flying off! I am so glad I was in the right place at the right time to capture this moment for them, and I am looking forward to many more amazing moments at their wedding in October!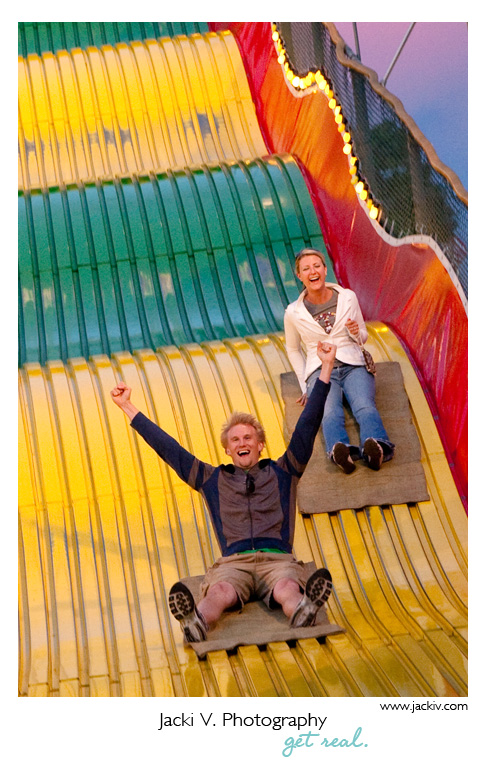 _________________________________________________________________
Please leave a comment below and let me know which images you felt best captured the most "real" moments!
Okay, now I have to try to figure out how to get this uploaded. I wonder if my daughter would be up for taking a break from her sleepover to help me out?